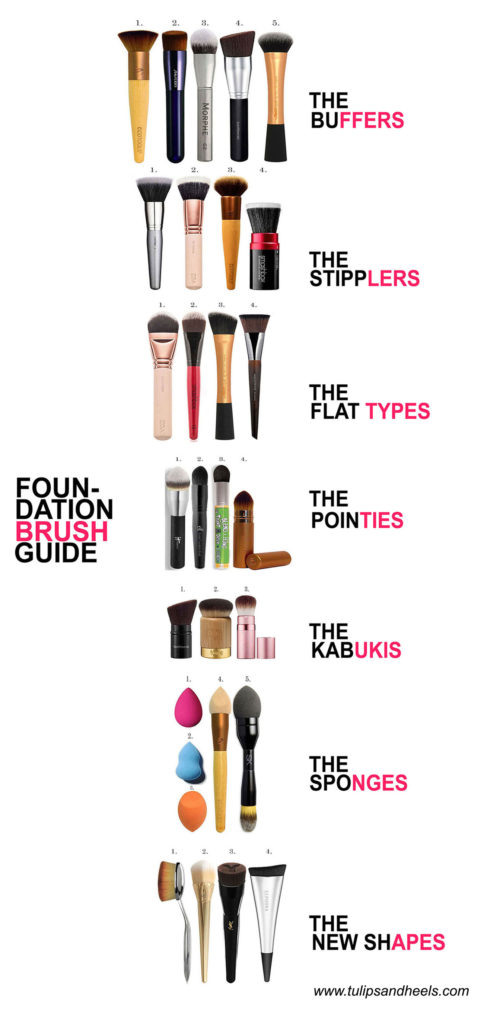 They can be flat, angled or rounded, small or giant. The density and shape vary. Your type of skin and foundation of choose may influence too. In the world of makeup brushes there are some many options when it comes to base applying, that it can get frankly overwhelming. Do you need them all? Of course not, you just have to find one that works for you (ok, maybe two…) Can't choose? Go old school by applying your foundation with clean hands: the product blends quickly with skin's natural oils. No streaking whatsoever!
THE BUFFERS
Usually densely packed, the bristles should be firm but soft. If you only need to even things out you can get away with just buffing. For extra coverage alternate between buffing and stippling motions. On dry skin types they can accentuate flakiness and dryness since the bristles perform a micro-exfoliation.
USE WITH: Cream, liquids, powders and gels.
MORE TIPS:
For easy-flawless blending, warm up the foundation by depositing it on the back of your hand first, then pick it up with your brush and apply.
Rounded borders adapt better to the edges and angular areas of the face.
Shorter bristles will deposit more product.
IN THE PICTURE:
1.Ecotools Custom Coverage Buffing Brush | 2. Shiseido Foundation Brush | 3. Morphe G2 Pointed Buffer | 4. bareMinerals Precision Face Brush | 5. real Techniques Expert Face Brush
THE STIPPLERS
Looking for a fresh-diffused effect? A stippler will give you exactly that. They have super soft, fluffy, lightly packed bristles to pick up a minimal quantity of product.
USE WITH: Creams and liquids.
MORE TIPS:
Rubb like you'll tipically do with a buffer and you'll get a sheer-barely there makeup look. Build up the coverage by using dabbing motions, which is what this brush is designed for.
If you have any kind of scars, you know buffers can be a little annoying to work with, as they deposit foundation right into those imperfections. With a stippler you can apply the product smoothly over those areas without making them look more prominent.
IN THE PICTURE:
1. Lancôme Stippling Brush | 2. 125 Zoeva Stippling | 3. Ecotools Stippling Brush | 4. Smashbox Telephoto 3-in-1 Face Brush
THE FLAT TYPES
Probably the less favorite among beauty junkies, but when done right it can be a great brush. Dot the foundation on the cheeks, chin and forehead, work it towards the opposite direction of the hair and then seal with soft dabbing motions. This method requires a little more time, but you get better control over the amount of product you use without compromising coverage. If you go back and forth, you'll definetely get streaks.
USE WITH: Cream and liquids.
MORE TIPS:
You can also use it to apply concealer over large areas, always make sure you get a soft brush to avoid streaks.
The more angled, the more sharp the application above the brows and around the eyes, lips and nose. This hape also helps to reach the hairline with ease.
IN THE PICTURE:
1. Zoeva112 Face Curve | 2. Smashbox Foundation Brush #13 | 3. real Techniques Foundation Brush | 4. Makeup Forever 146 Flat Blush Brush
THE POINTIES
Pointed tapered brushes are more precise and can work just like flat types. Perfect for the under eye area and around the nose.
MORETIPS:
They can double up as concealer brushes too.
To get better coverage, look for one that's densely packed, yet soft enough.
USE WITH: Cream, gels and liquids.
IN THE PICTURE:
1. Heavenly Luxe® Complexion Master #16 | 2. e.l.f. Pointed Foundation Brush | 3. theBalm Blend a Hand Tapered Foundation Brush | 4. Ecotools Retractable Foundation Brush.
THE KABUKIS
Kabukis are densely packed and have shorter handles, so they deposit more product and give total coverage.
USE WITH: Cream, liquids, powder and mineral foundations.
MORE TIPS: Looking to apply your foundation in no time? Go with a huge kabuki.
IN THE PICTURE:
1. bareMinerals Precision Face Retractable Brush | 2. tarte Airbuki Bamboo Powder Foundation Brush | 3. Too Faced Kabuki Brush
THE SPONGES
Sponges provide a flawless streak-free application and work best for dry skin as you need to use them damp, but they can diminish the coverage.
USE WITH: Cream, liquids, powder and mineral foundations.
MORE TIPS:
Use dabbing motions, never ever rubb.
Use them to blend liquid contour and get rid of any excess powder.
IN THE PICTURE:
1. beautyblender® original | 2. Sonia Kashuk Blending Sponge | 3. real Techniques Miracle Complexion Sponge | 4. Ecotools Foam Applicator Brush | 5 . Sonia Kashuk Complexion Perfector Dual Ended Foundation Brush & Sponge
THE NEW SHAPES
Oval shapes are fairly new: the size makes them one of the quickest/easiest ways to apply foundation, and thanks to its handle, you're less prone to get your hands dirty while doing so. Triangle sided brushes help to reach the under eye area and around the nose. The ones with a whole in the middle deposit just the right amount of product to avoid any waste. Super angled brushes are best suited for precise blending over angled areas of the face.
IN THE PICTURE:
1. Oval 8 | 2. real Techniques 101 Triangle Foundation Brush | 3. Yves Saint Laurent TOUCHE ECLAT Foundation Brush | 4. Sephora Collection Pro Visionary Face Blender Brush #134
This post contains affiliate links. I get a small commission for purchases or clicks made through them.