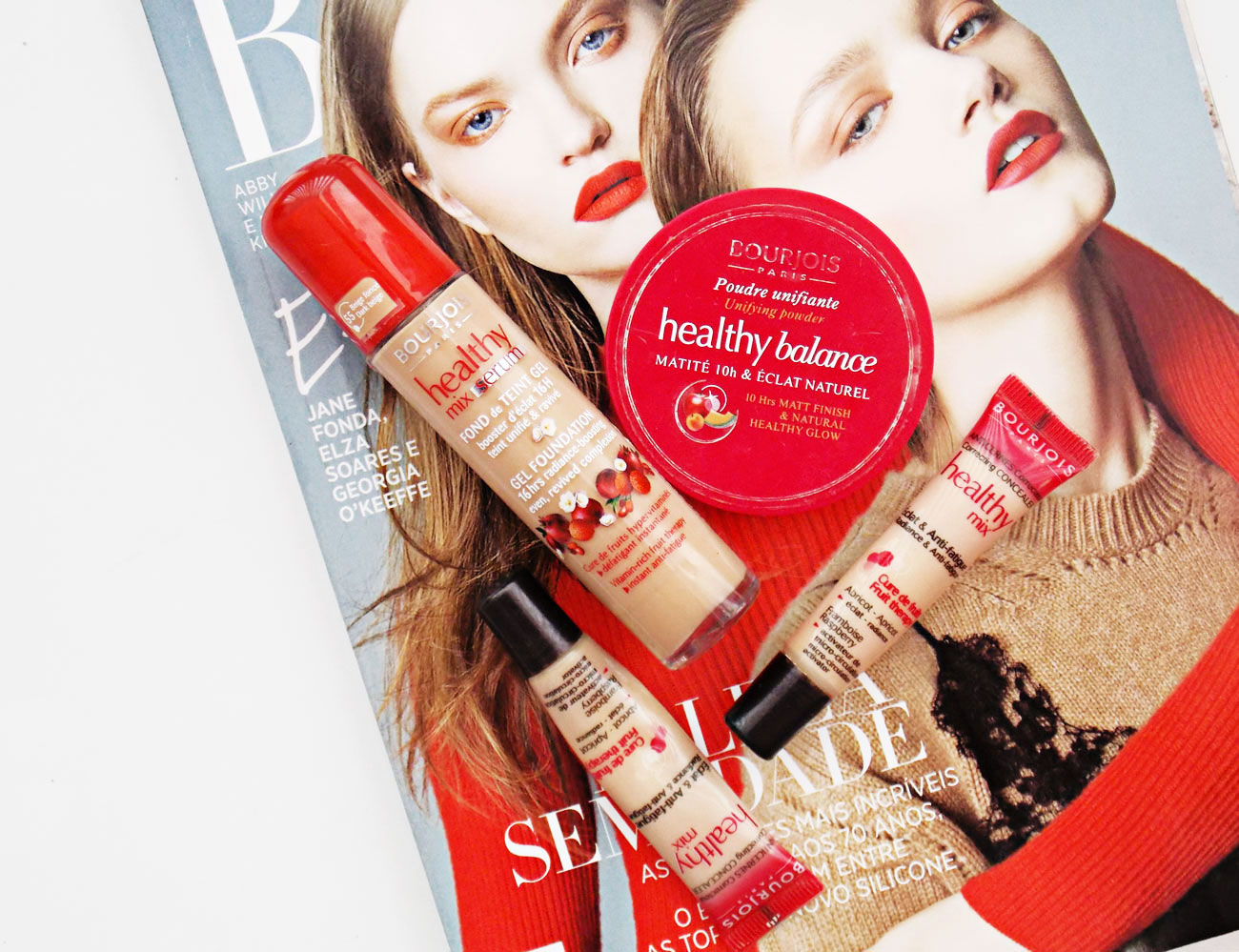 Today I'm sharing with you my opinion on the Healthy Mix serum foundation and concealer, as well as the Healthy Balance powder from Bourjois.
THE FOUNDATION
It provides a light coverage, but not minimum like most BB Creams. You can build it up to get a medium coverage, but that's it. It's a really lightweight and natural looking foundation: it's almost like you're not wearing anything which I simply love! It always looks fresh (yet not dewy I'll say), even if you apply more than one layer.
I was expecting it to be strongly fruitly scented, from previous reviews I checked, but to me at less it's not. When it comes to face products it's much preferred that they're scent-free, specially if you have extra sensitive skin. Mine is delicate, dry and acne prone and this foundation didn't cause any trouble at all.
Overall it's ideal for normal to dry skin types. I found my perfect match in the shade 55 Beige Foncé/Dark Beige.
THE CONCEALER
Funny enough, I find the concealer to be more perfumed than the foundation. I think it works better to correct imperfections than to illuminate because it leaves a slightly greysh finish and doesn't completely cover my undereye area, which isn't too dark or pigmented anyway. It has a thick texture and does get into fine lines, although it doesn't make them any more noticeable. Sealing it with powder is key, otherwise it'll move and trust me, it'll not be pretty! Also, it dries pretty fast, so you need to blend it ASAP.
I tried the shades 53 and 52. 53 suits better my yellow toned skin, whereas 52 is a little bit pinked tone.
THE POWDER
To me this powder is just perfection: it seals everything without adding extra coverage or modyfing the color of your foundation. It's so finely milled that's practically indetectable and paired with the Healthy Mix foundation makes the perfect combo. This probably won't work for you if you like to stay super mattified.
Have you tried any of these makeup products from Bourjois?
This post contains an affiliate link. I get a small commission for clicks or purchases made through it.