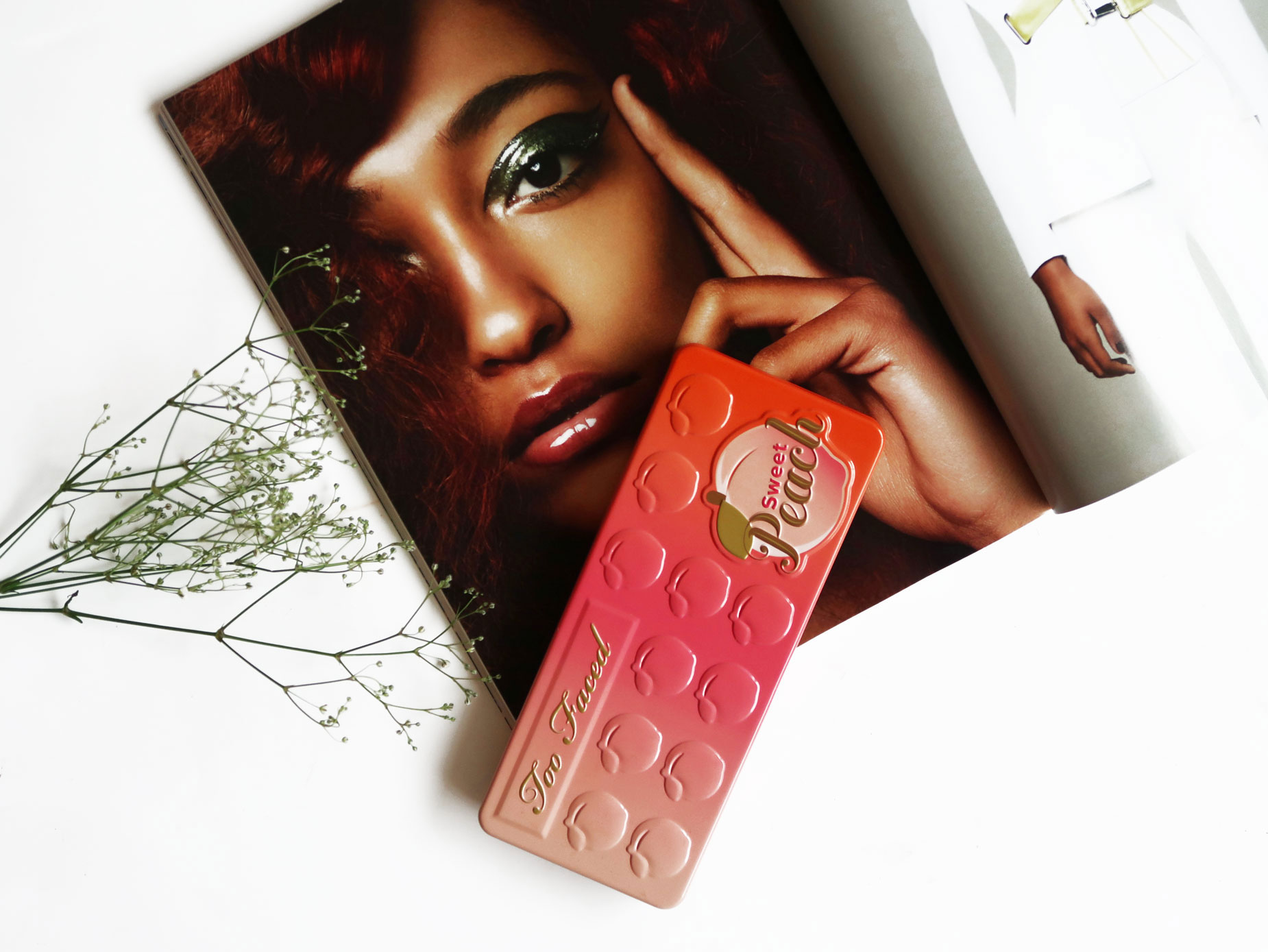 New palette obsession alert! Ride or die status. The Sweet Peach palette not only offers enough variety and contrast between shades, but also, some colorful-wearable hues. You can go as natural or as intense as you want! Can't put it down, nor describe how soft/buttery, pigmented, easy to apply and blendable these shadows are. They practically do the job by themselves!
This is the first time I try something from Too Faced, and as you can see, I'm totally impressed by the formula. Plus: it's cruelty-free. The lighter colors actually appear on my skin, which is something I haven't experiencied with other formulas. Especially the satins look and apply gorgeously. I'm thinking this is just the beginning of a long-life friendship with Too Faced!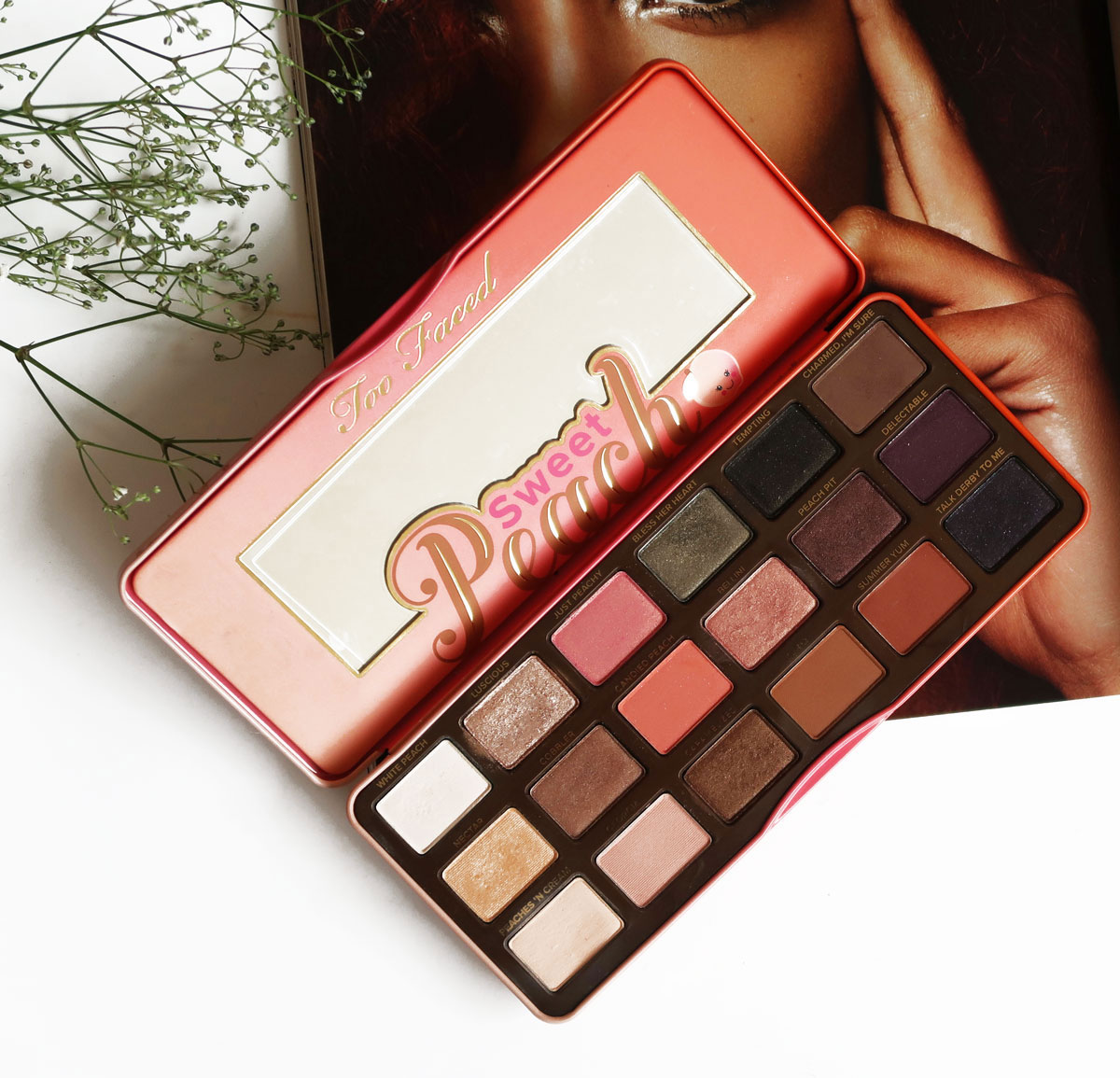 Now, some of the shadows are slightly patchy and require a careful build-up work, yet they stay true on the lid through the hours (previous priming). I got a 25% disccount code during last summer sale for being subscribed to their email list, and it came all the way from the USA to my house in Mexico, with no added shipping costs through Bordefree. From this photo, you can see it doesn't look like the safest way to package it, but no damage happened, whatsoever.
The childish design it's not my fave thing. As for the scent, it's soft, so it doesn't annoy me.
ROW 1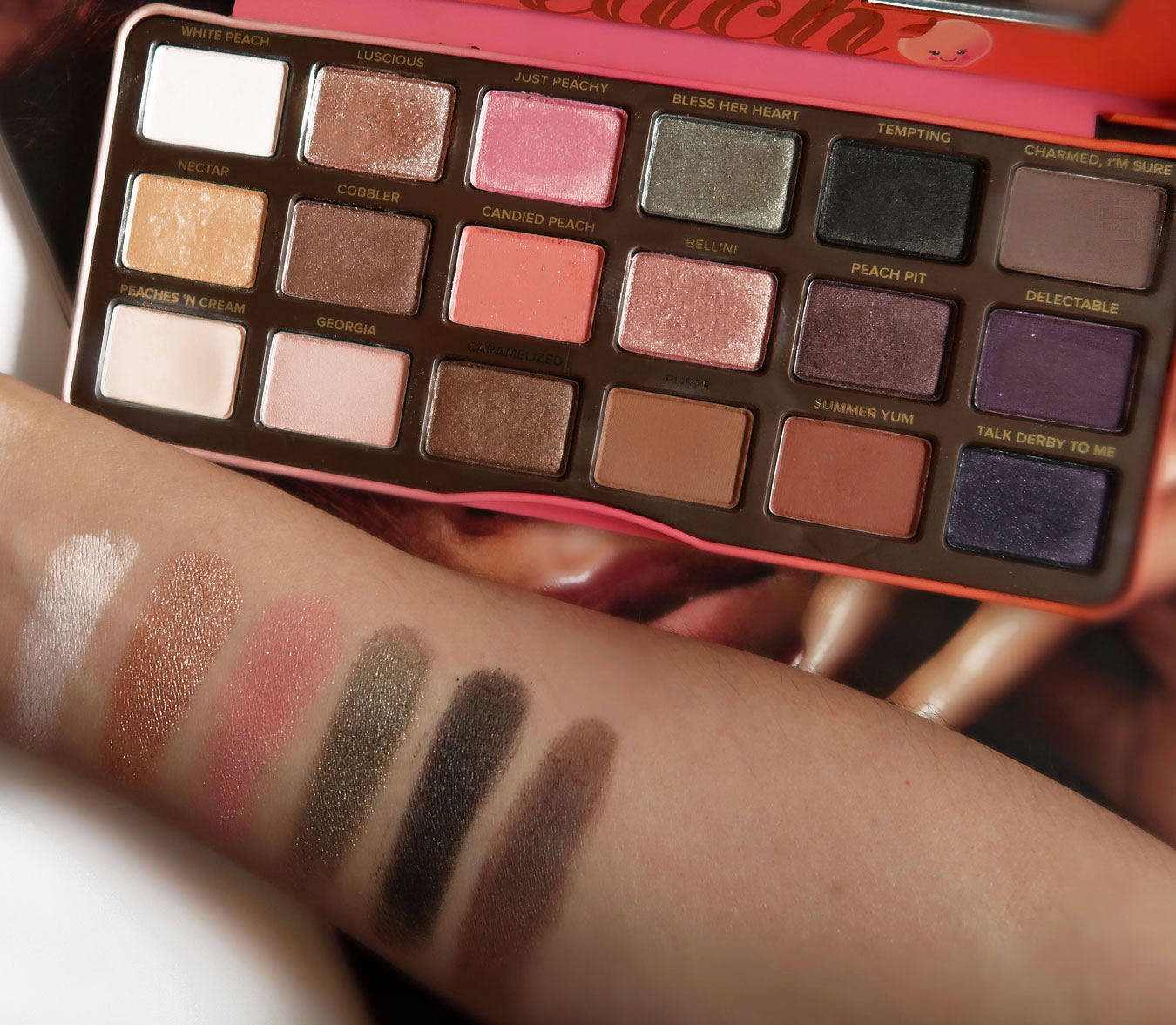 White Peach: Light mattes tend to be a little stiff, and it's kind of hard to see true pigmentation. Not the case here. This and Peaches 'N Creams are my absolute faves to use as a base.

Luscious: A warm coppery must-have shade.
Just Peachy: It's satin, warm toned, and the kind of pink you actually want to wear.
Bless Her Heart: It has meallic finish and looks very neutral on the lid.
Tempting: A soft black with brown/green undertone and sheen finish. It does require build- up.
Charmed, I'm Sure: A darker brown matte. It gives versatility to the palette, as it tones down the warmness of the rest of the colors, and it's ideal to intensify everyday smokey looks.
ROW 2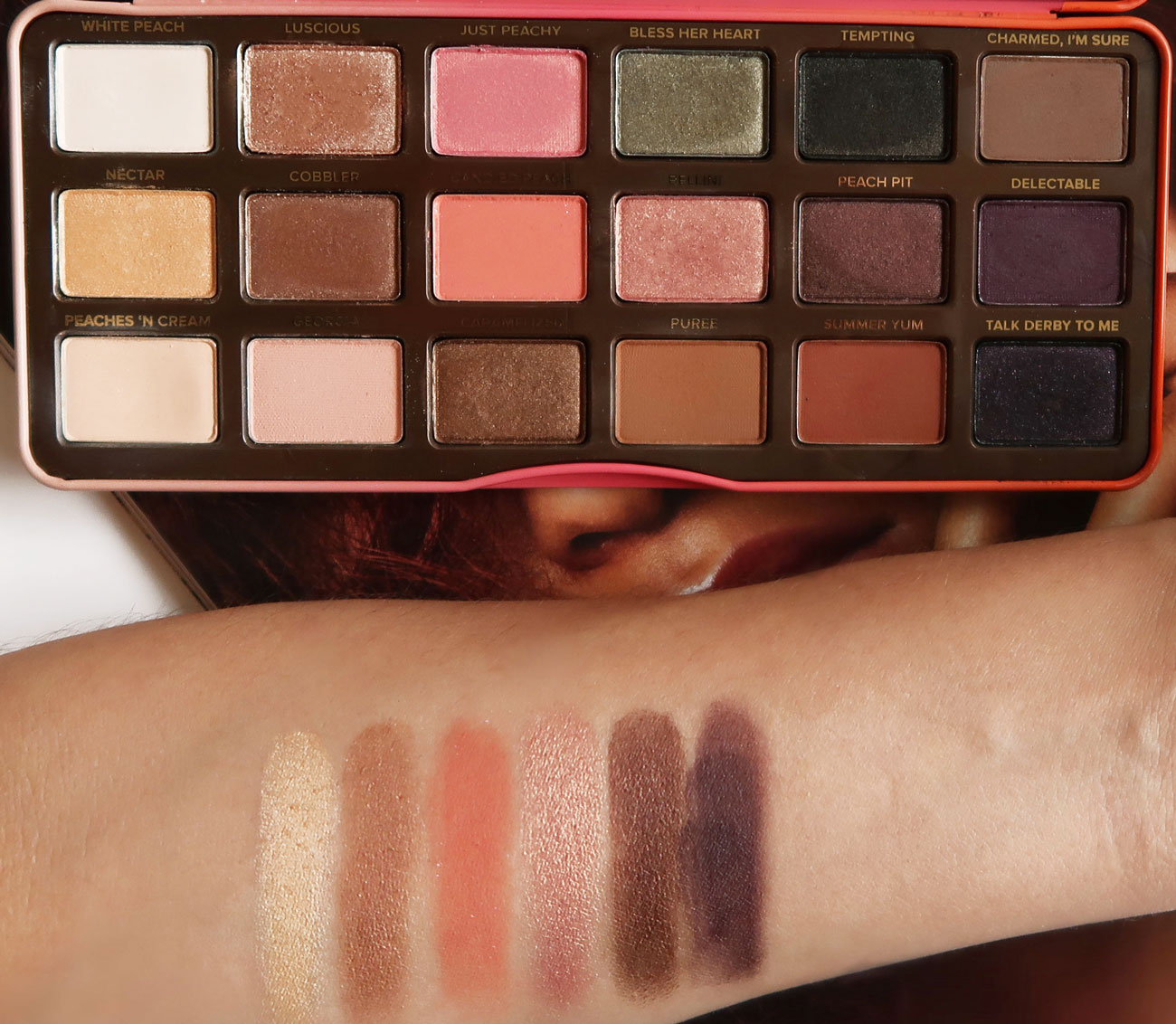 Nectar: A light satined yellow.

Cobbler: A little darker than Luscious. Same finish.
Candied Peach: It's an orange matte with finelly milled pink and magenta glitter particles.
Bellini: A satined warm light pink.

Peach Pit: A satin brown with red undertone.

Delectable: It's a plum with sheen finish. A little stiff and not the best pigmented, but beautiful, nonetheless.
ROW 3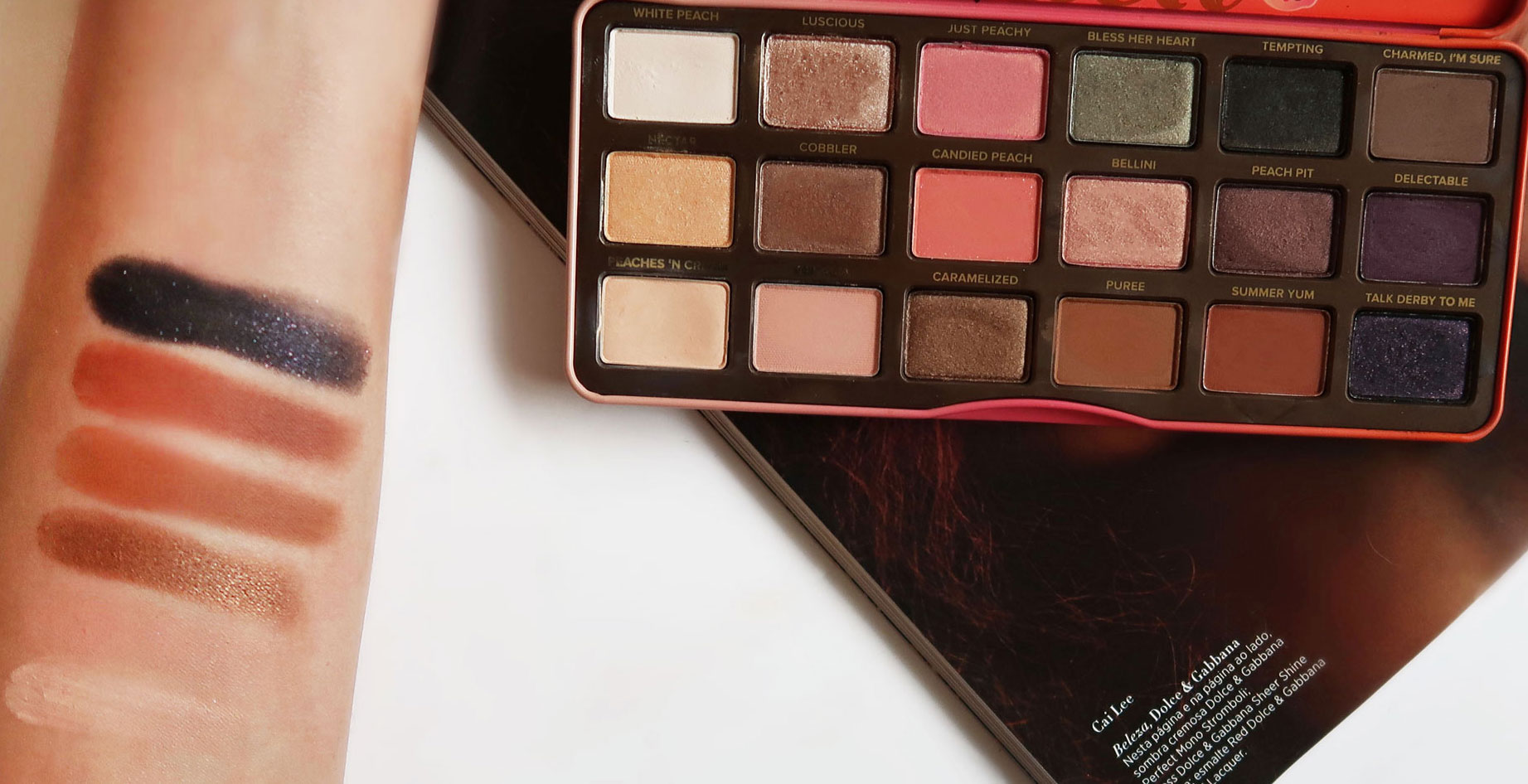 Peaches 'N Creams: A yellow based beige I'll definitely be hitting pan on very soon.
Georgia: A soft rosy shade that's perfect for transition.
Caramelized: Another satin. Warmer than Cobbler, but very similar.

Puree: A caramel matte.
Summer Yum: Same as Puree, but reddish and more intense.
Talk Derby to Me: A fun dark purple with fine glitter. Not the easiest to work with, as it's a little dry and patchy.
Overall,  I think the Sweet Peach is an unique palette that totally worths the investment!
This post contains an affiliate link. I get a small commission for clicks or purchases made through it.