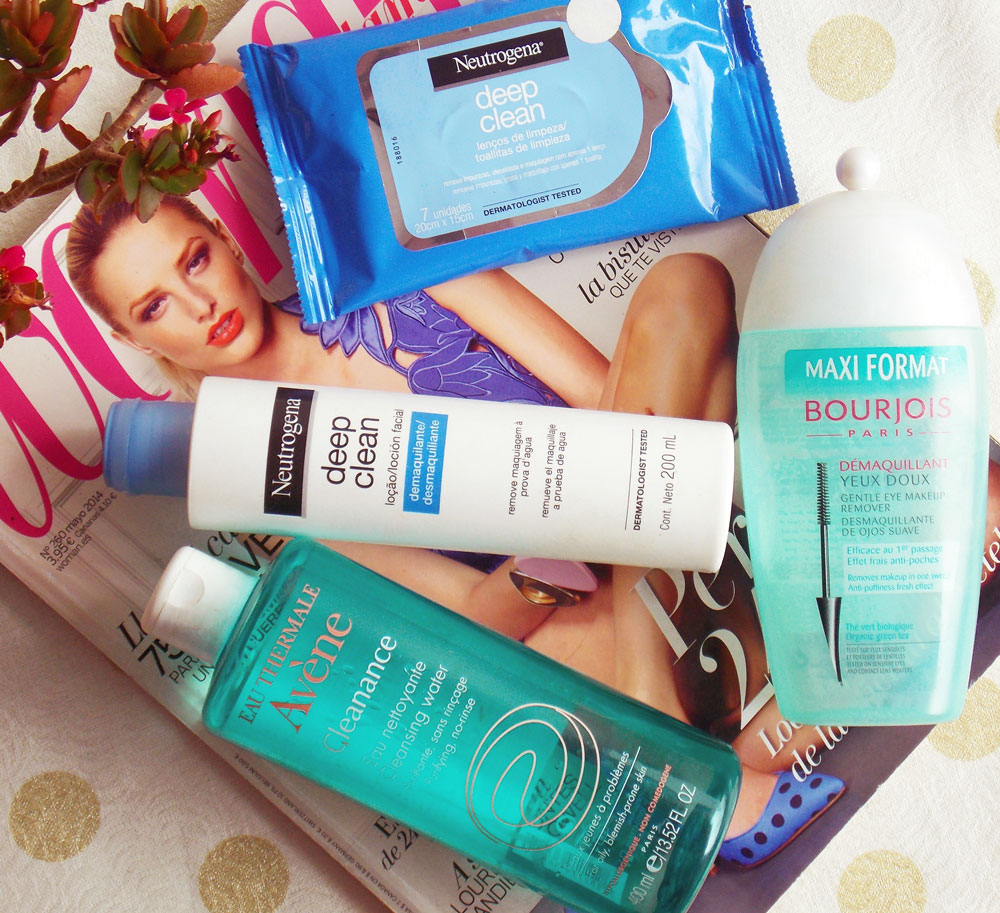 From left to right: Avène's Cleanance Cleansing water, Neutrogena deep clean makeup remover, Neutrogena deep clean cleansing wipes, Bourjois Gentle Eye Makeup Remover.
Removing your makeup everyday not only avoids breakouts but prevents the aging and hyperpigmentation caused by daily pollution, so it's as important as wearing sunscreen. This quick guide will help you to find the makeup remover that better fits your type of skin and needs to make your PM routine more pleasant!
WIPES                                                                                                                                        
I seriously admire those girls who can remove their entire makeup with just one cleansing wipe! And genuinely suffer when I see how much they have to rub off to get it done. Wipes are convenient if you're on the go —say at the gym or during a plaine travel— or just to freshen things up, but they don't clean up pores, that means a lot of junk remains sitting on the skin leading to irritation and breakouts. In fact, the chemical ingredients that keep them wet can actually dehydrate the skin.
MICELLAR WATERS                                                                                                      
Micellar waters are alcohol and detergent free, so they're the best option for extra sensitive skins, but we can all benefit from them. Supposedly you can get away with no rinsing and jump right into moisturizing. Personally I like to make sure I'm not leaving any residue behind and trust me, 99,9%  of the times there's some! So toner is an absolute must have for me. For heavy makeup wearers this will not be the most efficient method as it'll take extra time —and product— to take it all off.
BIPHASIC MAKEUP REMOVERS                                                                                    
Formulated with water and oil, they get activated by shaking the bottle and can instantly remove any makeup. They're best at disolving waterproof eye makeup, but you can use only the water phase to get rid off non waterproof makeup as well. The downside? Many of them contain soap which tends to irritate the eye area.
OILS                                                                                                                                    
Oils melt off even the most stubburn mascara in no time while leaving the skin dewy. Afraid of possible breakouts? Don't be. Just as with any other formula you just want to make sure you use a toner to avoid residues and prevent clogged pores.
CREAMS                                                                                                                        
Creams typically contain butters and other emolients that can do wonders for dry skins, but some of them can be too heavy for other type of skins and cause breakouts.
MUDS                                                                                                                          
Cleansing balms are a good option for dry skin types and heavy makeup wearers, they act like facial masks soaking up all the dirt. But be aware, they can be too abrasive for everyday use.
GELS                                                                                                                                
These are better suited for oily and acne prone skins, but can be drying and irritating. Choose oil and soap free formulas and prefer the ones containing salycilic acid rather than Benzoyl Peroxid.
FOAMS                                                                                                                          
Foams contain more water than soap and therefore are more gentle. While they're good for starting removing your makeup you'll most likely need another product to complete your cleanse.
SCRUBS                                                                                                                            
Same as foams, you'll need a second product to take it all off. I talked about my favorite scrub in here and I love it because you can use it everyday and get through the makeup removing process more quickly, but if you have sensitive skin you should definetely limit the use of scrubs to once per week, more than that can irritate the skin and make it thinner. In any case, avoid rough beads.
FOR THE EYES                                                                                                                  
Oils are definetely the way to go, but if you wear non-waterproof mascara you can get away with using just your regular creamy makeup remover. If you have sensitive eyes avoid products with tons of ingredients and look for alcohol, essence and dye free products.
FOR PRIMER WEARERS                                                                                                      
Those of you who can't skip primer or love long wearing foundations will need a sylicon based makeup remover (look for ingredientes starting by "cyclo" on the label) to disolve the polymers responsible for extending the life of your makeup.
What's your favorite makeup remover?
ON THIS POST:
This post contains affiliate links. I get a small commission for purchases or clicks made through them.