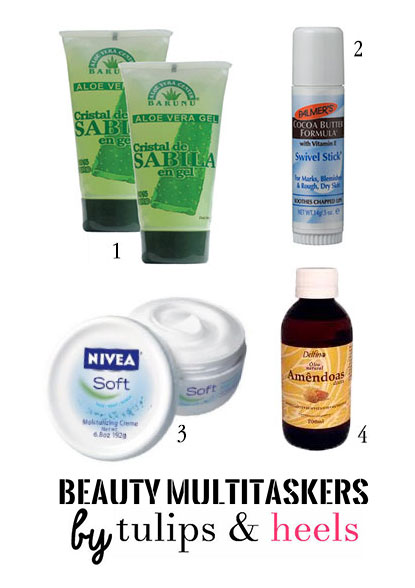 As much as I love testing new beauty products I hate when they start to accumulate on my shelf so I'm always looking to simplify my routine with products that serve for multiple purposes at once. Listed below are my favorites. 
1. ALOE VERA GEL
I think this is the only product I literally can't live without. The one that I use is from a venezuelan called BARUNU. According to dermatological studies when concentrated above 50% aloe vera gel helps to treat acne and this one is 90%. I haven't found that level of purity in any other similar product yet but I'm looking forward to try other options so if you know any please tell me in the comments! Anyways, here's how to use it:
As a primer: It e

vens

out the

skin

texture,

gives a better

 appereance

and

creates

a protective film that

helps

makeup

to last

longer.

As a night moisturizer: Because of its

regenerative properties

this

is

an excellent option

 

to combat

blemishes

.

If

your skin is dry

then you

might still

need to apply

your regular

 

moisturizer

before.
As a face mask: I 

Usually

apply a

raw

honey

mask

first

.
To calm irritated skin after shaving:

I swear by its super refreshing effect

.
2. PALMER'S COCOA BUTTER FORMULA SWIVEL STICK
The best moisturizing lip balm I've tried so far. It works as a body butter which is great to soften dry areas such as elbows and knees. It contains vitamin E and cocoa extract so it smells like chocolate!
3. NIVEA SOFT CREAM
The soft version of the classic Nivea cream can be used on hands, body and face and its small presentation is great to carry in your bag. It contains vitamin E and jojoba oil so if you have acne prone skin you might want to stay away from this.
I like to use it as an eye cream; it just feels more moisturizing than other specific creams, it's cheaper, smells delicious and lasts longer but don't even try this if your skin is extra sensitive in that area.
Use it as a

makeup remover

or

as a face mask

by mixing it

with honey.

Rub a dab into 

your hands and

pass it

through your hair

to control frizz

.

It

softens the cuticles

because it contains 

lanoline, an

ingredient that hydrates and

 

creates a barrier

that protects them from

infections.
4. ALMOND OIL
Almond oil moisturizes, nourishes and softens skin and hair. It absorbs quickly and you only need to apply a hint of it. I use it for pretty much everything and it's super cheap!
How to use it on skin
I added it to my body moisturizer and to the Nivea Soft Creme. It also works as a cleanser or as a mask on normal to dry skin.
How to use it on hair
Before washing my hair I make a high ponytail and apply it from middles to ends to counteract the damage caused by the chemical agents contained in shampoo. I prefer this rather than olive oil because it feels lighter and smells way better. Use a dab after styling your hair to add shine -a little goes along way- I even put some on my heat protection spray!
Hope you found this post helpful!                                                                             Grise, xx