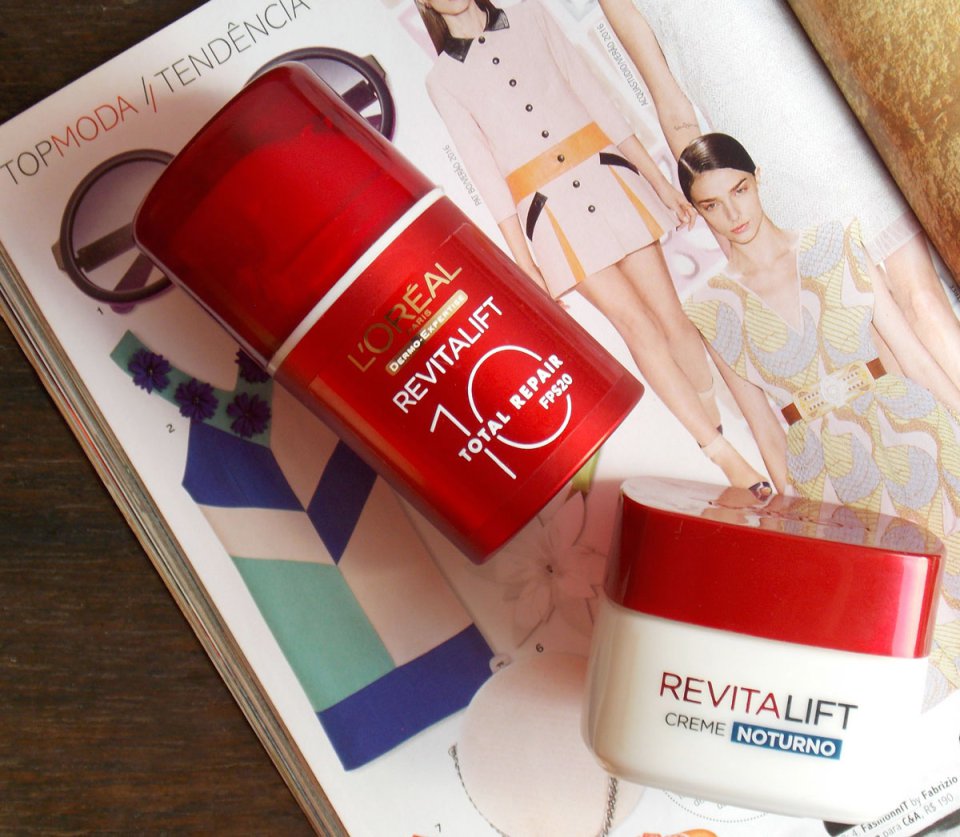 Finding the right moisturizer+sunscreen for my dry-acne prone skin has been a real pain. In the middle of my desperation I tried the Total 10 Repair and Night Cream from L'oreal's Revitalift line.
REVITALIFT TOTAL REPAIR 10
It promises to improve the appearance of wrinkles and give you firmer, smoother, more supple, hydrated, luminous and toned complexion, reducing sun damage and evening out the tone and texture of the skin for a total of ten benefits, hence its name.
Although it's never too early to start using creams that prevent and repair the effects of aging, my top concern at the moment is to keep my skin hydrated without aggravating my acne and I think this has been good exactly at that! It comes with a pump which is great for not contaminating the product and has a thick texture but isn't heavy or oily at all. It also applies with ease leaving the skin smooth and ready for makeup (I know there's a BB Cream version in the US but that's not available here.)
It does protect against UVA rays (the ones responsible for aging), but doesn't offer any protection against UVB rays (which cause burning), so I definetely recommend using sunscreen. If you've already found a good SPF, chances are you don't need any extra product because it'll act as a moisturizer in just one step. Luckily I've finally found mine (I'll talk about it in an upcoming post), but I keep using the Total Repair 10 before doing my makeup whenever I'm heading out on the evenings.
Overall, I think this is a nice option to keep mature/dry skin hydrated at a friendly price and I'll most likely end up buying it again since drugstore options are pretty limited here in Brazil. However, I don't believe in "do-it-all" miracle products, and although I don't have wrinkles yet, I do have sun damage and after two months of use I haven't noticed any difference in the tone or texture of my skin whatsoever.
If you're struggling with these kind of problems Retinol is the way to go. This derivative of vitamine A stimulates collagen production, smoothing fine lines and improving skin's texture. Depending on the specific needs of your skin, you might need to pair it with others antioxidants and repairing ingredients as well.
In this formula, besides Stimulift, which is supposed to plump and firm skin, and a mixture of vitamin B and Pro-Vitamin B5, the main ingredient is Pro-Retinol, a very less powerful version of Retinol that to this day fails to convince dermatologists about its effectiveness.
REVITALIFT NIGHT CREAM
The night cream has a rich texture and absorbs quickly leaving a slightly greasy feeling, which isn't a problem for me, but it certainly won't be good for those of you with oily skin.
It contains Stimuplex, which according to the brand contibutes to cell renewal, improves elastin production and gives you firmer skin. Now, I don't know about that, but as I've already mentioned Pro-Retinol (also present in this formula) isn't an effective anti-aging and actually the packaging facilitates the accumulation of bacteria (even if we clean our hands before applying) interfering with the formula, so that's definetely a negative point.
Again, what I'm looking for right now it's just to keep my skin hydrated and acne free and unfortunately this turned out too heavy and caused me some breakouts, which is sad because A) I still haven't found a night time moisturizer B) It left my skin feeling really soft and hydrated which is something I haven't experienced in a long time.
Have you tried anything from L'Oreal's Revitalift line? Feel free to share your experience in the comments!