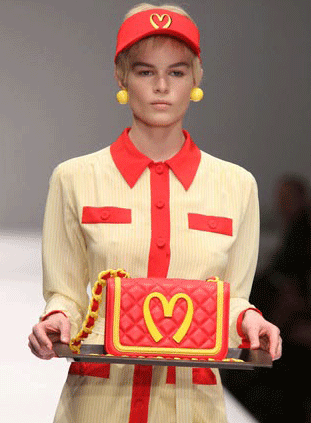 Photo credit: Getty
In 1962 Andy Warhol presented a series of thirty-two canvases featuring canned soup aligned on the gallery wall like the product is displayed on grocery store shelves. It was a message about how art became just another mundane object for mass consumption.
My first reaction to Jeremy Scott's debut collection for Moschino inspired by Ronald McDonald and Sponge Bob was to roll my eyes. It's Moschino, there has to be a hint of trashy in it but the happy meal bag and the French-fries felt just so literal and unoriginal –Kathrin Baumann did the same thing back in the nineties– that I really didn't put more toughs into it but yesterday while going through all the photos of the runway I realized the guy is kinda genius!
Although most of the garments can only be pulled off by Anna Dello Russo (she wore a Campbell tomato soup dress too) and I still cringe about those Sponge Bob's matching sets and coats, I'm starting to appreciate the irony behind the concept of Moschino's new creative director on how fashion is consumed now: served in a plate as junk food to be devoured fast. It has the power to become a $164 plain white cotton t-shirt that literally says "You wanted a Moschino t-shirt so here it is" into the next object of desire. And we still love it.
Actually not everyone is lovin' it.
Retail buyers bought everything and the collection sold out but McDonald's employees didn't find anything fashionable about their work uniform and accused the brand of mocking of them while Scott says he was just having fun. Rumor has it that Warhol painted the canned soup because he liked to drink it.
But Scott isn't the only designer mixing food and consumptionism with fashion 
Chanel presented a bag that resembles a milk carton with pearl beaded words during that show where the catwalk was a giant supermarket and Cara and Rihanna pretended to be buying their groceries.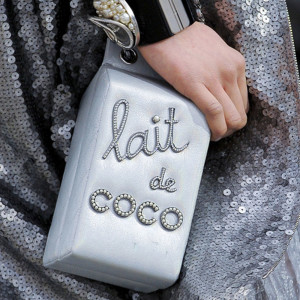 Photo credit: Getty
Also, Anya Hindmarch, the inventor of the "I'm not a plastic bag" bag created these box cereal clutches that I'll actually wear myself if they weren't made of snakeskin and I were rolling in money.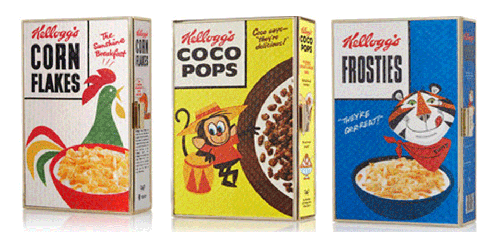 Photo credit: Anya Hindmarch