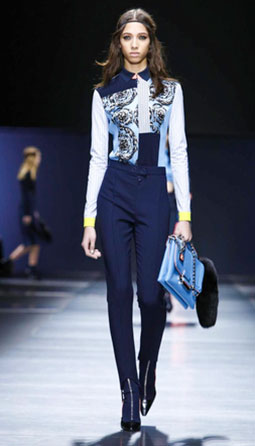 A yellow bodycon mini dress with cutted-out triangles of Versace's 2010 Spring made me fall in love with fashion. But honestly, through the years I lost interest in the brand: it all felt oversexualized and repetitive.
But times have changed and Versace has proved to know what a girl wants: to dress for herself. This fall collection shows how the brand has succesfully evolved to keep relevance while manteinaing its DNA intact.
Clean, more contemporary shapes (even boxy and oversized!) were all over the runway and cut-out and mini silhouettes are now sophisticated. They're wearable withouth losing the impact and boldness that caracterizes the brand.
There was a wink to the olympic games and rich embroidery details mixed with tailoring pieces that work for day and night, potential staples for a woman that doesn't need to show off her power and confidence through sexuality. She's force on her own.
Can't wait to see what's coming next season!
                                                                                                                                                     Photo Credits: NowFashion