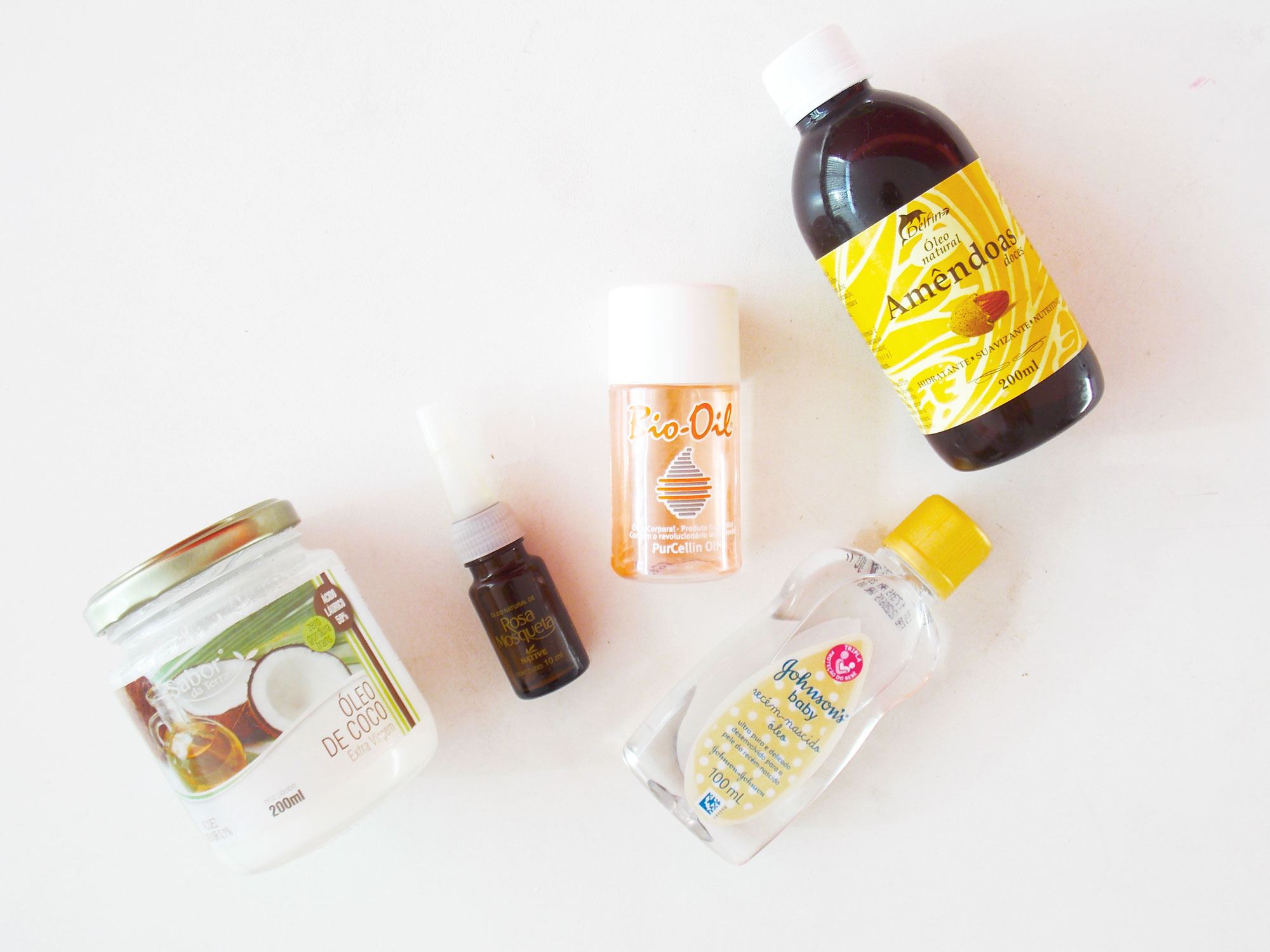 TO KEEP MY HAIR SMOOTH

Two words: coconut oil. It taims my hair rebelness and keeps everything looking good. I apply it before shampooing from middle to tips and in the front sections (they tend to receive more heat damage) and leave it from 10 to 60 minutes. For some reason I get more shine from almond oil but the two of them work just fine.
TO CLEAN MY FACE

The fatty acids present in oils help to fix skin's moisture barrier fixing its holes and improving its capacity to retain water, something my super dry skin can definitely benefit from. On mornings I apply almond oil over my face and give myself a little massage, I rinse with a soap-free face wash like Eucerin's Syndet or Cetaphyl face lotion for dry and sensitive skin.
TO REMOVE MY MAKEUP
To remove my makeup I do the same thing, finishing with a micellar water or creamy makeup remover. Pretty much everything has came off by then without rubbing. I tried organic coconut oil for this purpose and it's really as amazing as they say: it removes everything super quick and easy…but it's comedogenic, so a few days after I swear I regreated! Make sure you get one that's proper for skincare uses.
Baby oil in the other hand, is super refined and doesn't cause allergies or acne since its molecules are too big to actually penetrate skin. If you want more info about this subject check this video from the amazing Paula's Choice Team.
TO GET A DEWY MAKEUP FINISH
I did a full review and explained why I don't use Bio-Oil as much. But as I said, it really saves the day whenever my skin is extra dull. I use a dab to prep my skin or mix it with my foundation.
TO MAKE MY OWN SETTING SPRAY
I mix a quarter of almond oil in a small spray bottle filled with filtered water to give myself a splash once I'm done with my makeup.
TO GET LONGER LASHES
Again, almond oil. What can I say? It's an amazing multitasker. My lashes are thicker and considerably longer for what they used to be, like I can actually see my lower lashes now! Apply at night and be constant to see results.
TO REVIVE CREAM MAKEUP PRODUCTS
Color Tattos tend to get dry by the exposure to air. To fix mine, I added a couple drops of rosehip oil which I got it in the hope it could erase my acne marks and caused me more spots, so I had to find a use for it.
How do you incorporate oils into your beauty routine?