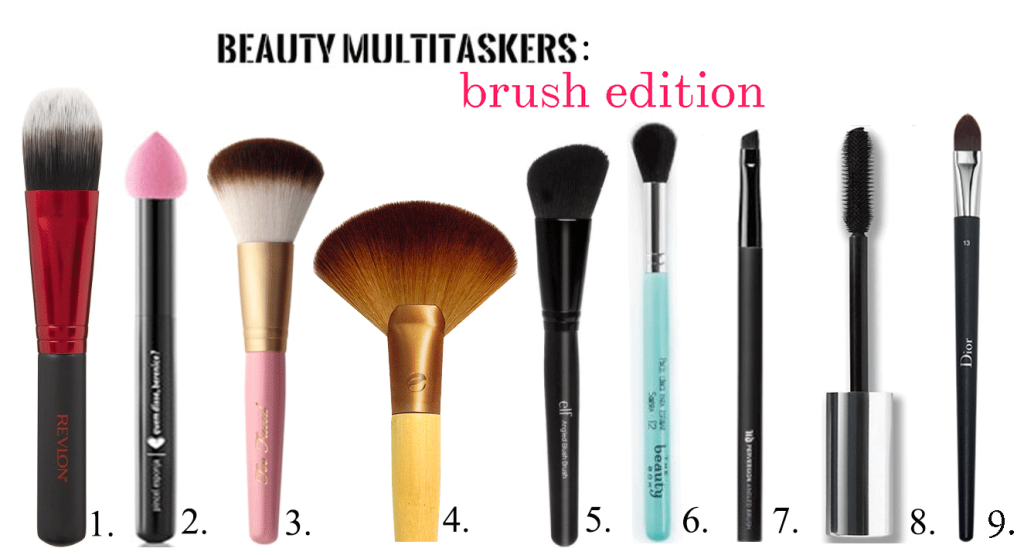 1. Foundation brush, Revlon. I 2. Sponge brush, Quem Disse Berenice.I 3. Powder brush, Too Faced. I 4. Fan Brush, Ecotools. I 5. Angled brush blush, Elf. I 6. Blending eyeshadow brush, The Beauty Box. I 7. Eyebrow brush, Urban Decay. I 8. Buxom Lash mascara wand, Bare Escentuals. I 9.Concealer brush, Dior.
If you think you need a million brushes to create a perfect makeup then think again. These brushes are incredible versatile and chances are you already own them! Here's how to make the most out of them.
1. FOUNDATION BRUSH
Use it to apply blush, loose powders and concealer.
2. SPONGE BRUSH
If you need full coverage on specific areas this is the brush for you. It's ideal to blend concealer under the eyes as well.
3. POWDER BRUSH
Squeeze the bristles with your hand to create the shape of a fan brush or use it as it is to blend contouring. 
4. FAN BRUSH
Pick a side for bronzer and another for highlighter. It's perfect to work with powdery products and clean eyeshadow fallouts.
5. ANGLED BLUSH BRUSH
Apply blush with absolute precision on your cheekbones taking the brush from the center of the eye to the temple and create a perfect contour using the sides like a fanbrush.
6. BLENDING EYESHADOW BRUSH
This is a must have in your collection to apply and blend eyeshadows, but you can also use it to blend foundation or concealer over fine lines to prevent them from being more noticeable. Apply cream blush and lipstick with it, or use it to contour, highlight and smudge.
7. EYEBROW BRUSH
A great -and much less intimidating- option to apply eyeliner, especially if you're beginner. Use with gel or cream eyeliner and wet eyeshadows.
8. MASCARA WAND 
Clean up the wand of a finished mascara and use it to groom your eyebrows, give a liftto the lashes after applying mascara and remove any clump. Just make sure the bristlesare soft. Extra tip: Save your favorite wands and reuse them to achieve the same effectwith any other mascara.
9. CONCEACEALER BRUSH
It works perfectly fine for applying lipstick.
So, which one is on your wishlist?