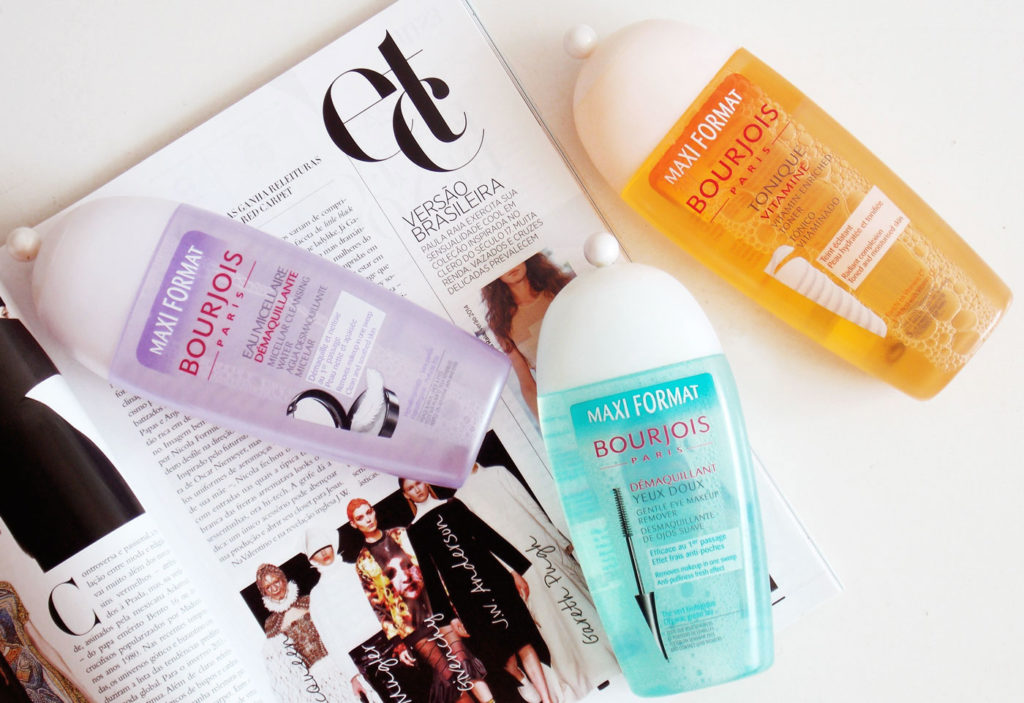 Three inexpensive products from Bourjois's skincare line that I love and recommend!
THE MICELLAR CLEANSING WATER
This is the ultimate micellar water: unscented, lightweight, alcohol free, and therefore gentle on the skin. Plus: I love Bourjois's 250 ml Maxiformat. Of course, you can't relay solely on micellar waters to remove heavy or waterproof makeup, but it's effective at removing everything else with ease, unlike some others micellar waters I've tried. If your skin is tired of overboard abrassive cleansing formulas this is something that worths trying! To know more about makeup removing options click here.
THE GENTLE EYE MAKEUP REMOVER
When it comes to removing eye makeup, oils are the way to go for me, but this product really lives to its promise of being gentle. I don't know about its anti-puffinesss effect or the actual benefits of the organic green tea that's in it, but it melts off heavy mascara in one sweep without irritating the eye area or leaving greasy residues and feels just like a micellar water. Although it comes in a Maxiformat it has 200 ml, but trust me, it lasts for a while.
THE VITAMIN ENRICHED TONER
For some reason Neutrogena's Alcohol Free Toner feels slightly adstringent on my skin. I get this one at the same price (even cheaper depending on where I buy it) and has 50 ml more. I always stock up on it because it's not that easy to find. It's suppossed to be enriched with a vitamin C derivative (this is unclear in the ingredients list) and it does have a light orangy smell added to it, but truth is, it takes a lot of effort for brands to estabilize vitamine C in formulas and make them actually effective so the skin can benefit from it. It also claims to moisturize skin which I don't think it does, simply because that's not what toners are for, but it doesn't irritate the skin or leaves it dehydrated like most drugstore toners. It gets rid off any remaining trace of makeup, feels fresh and here's the best part: there is no alcohol in it, which is awesome news, especially for dry skin types like mine.
Is Bourjois available where you live or have you had the chance to try any of these products? Comment below!
ON THIS POST:
This post contains affiliate links. I get a small commission for purchases or clicks made through them.