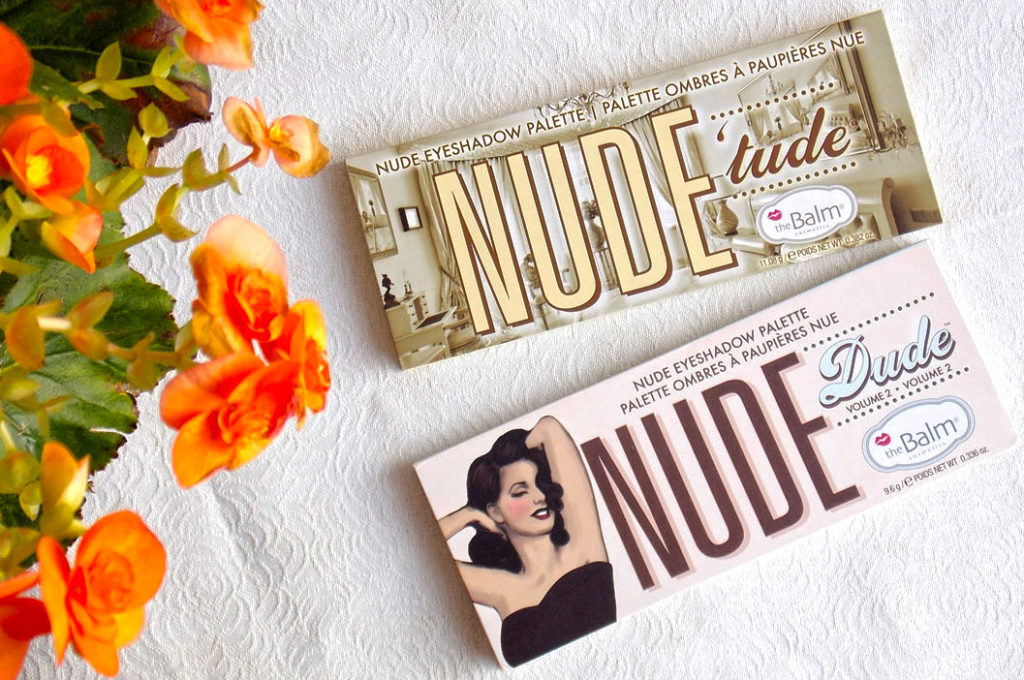 Some of you will hate me for what I'm about to say, but here it goes: the Naked palettes really never caught my attention! Don't get me wrong, for all the hype that's around them, I'm sure they're some of the best eyeshadows palettes out there, but the color range within one same palette seems very similar to me, there are only a few mattes and some of the shades are repeats from one palette to another. Because of that —and the fact that they're crazy expensive here in Brazil— I decided to go with something more versatile.
I did my research and was decided to get the LORAC PRO, but turns out it's not available in here and ordering anything from abroad it's quite an adventure because of the taxes, or so I've heard. Then I saw that for the price of one of theBalm's Nudes I could only get a Naked Basics (I do want one of those though), so I went ahead and picked these both and I don't regreat.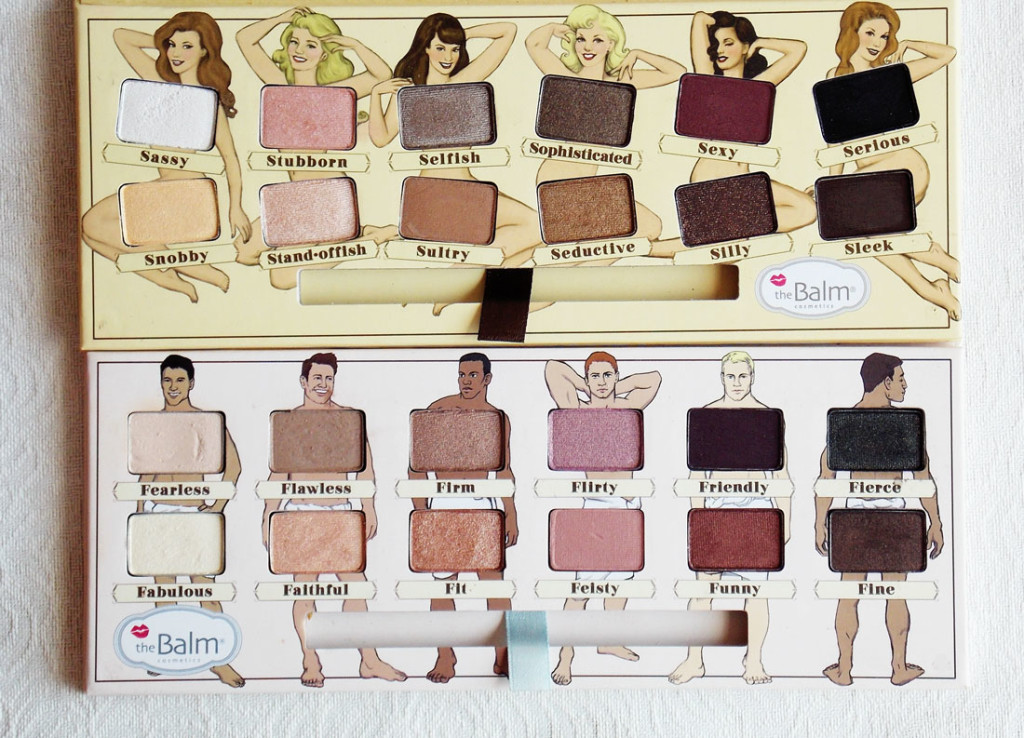 The Nude 'tude and Nude Dude complement each other and I can see myself creating tons of everyday and night time looks with them. Each palette comes with a double angled brush that's actually useful to apply liner and lipstick.  Also, their lightweight cardboard package and mirror makes them ideal for traveling.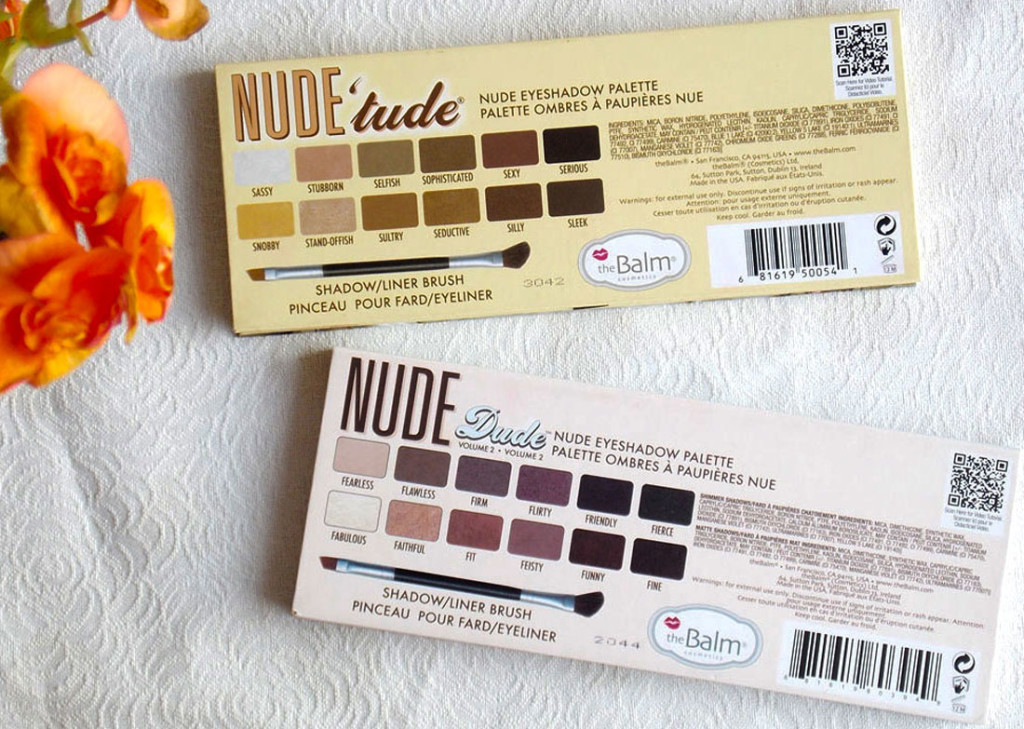 I featured the Nude 'tude palette in one of my Holiday gift guides last year, but when I swatched it at a local store I wasn't very excited. I just find the Nude Dude to have more rich and beautiful colors. Nonetheless, both palettes have great color payoff, blend like a dream and last for hours, specially if you apply a sticky base first. Although they do have some fallout, I think the price-quality value is just fab.
THE NUDE 'TUDE PALETTE
At first glance the color selection looks all over the place for a neutral palette and I guess this is why some girls say they never reach for it. But look closely and you'll find that every shade you might want/need for your everyday looks is in here. Well, almost, a taupe shade is definitely missing! Still, it's a great starter palette that offers enough versatility to experiment.

Silly is glittery and looks chunky on the pan but it's actually easy to work with, while Sassy, Snobby, Stubborn, Selfish, Sophisticated, Seductive are satin finishes and the rest are mattes.
Snobby always gives me a hard time to make it show off on my lid and gets crumbly more often than not, so not my favorite.
Stubborn and Stand-offish turned out less pigmented than I expected and I prefer to use them as highlighters.
Seductive is as rich and smooth as the shadows from the second palette and my absolute favorite.
Sexy it's great to do a warm smokey eye.
You can get away with using Sleek for your brows if you're brunette like me. Just use a light hand.
I love using Serious as liner.
THE NUDE DUDE PALETTE
You know when you see something you fall in love and just can't leave behind beacuse you know your life won't be the same without it? On pictures this palette looked totally blah and some fellow bloggers didn't show much of enthusiasm for it, so I was about to skip it. But when I swatched it at the store I was inmediatly amazed by the pigmentation!


The colors are beautiful and subtle but not plain at all. If you want to go dramatic you're gonna need to build them up and even wet your brush first.
Fearless, Flawless, Feisty and Friendly have matte finishes and are perfect for blending. This last one is an almost black purple and looks like it has some glitter on the pan but it's completely matte. The rest are satin slightly shimmery formulas.
Fabulous is perfect for that subtle highlight over the brow bone.
Flawless is similar to Sultry, but you do need a good transition shade in any palette.
Fierce it's a bit shimmery but can definetely save the day if you don't have a black matte around and it won't look too overboard.
Fit has to be my fave, it's just gorgeous!
Flirty and Feisty give the pink-mauve tone to the palette.
Funny is a lovely reddish brown.
Last but not less, Fine is a straight up chocolate with some shimmer in it.
Hope this post has been helpful if you're planning to get one (or both) of these palettes!
This post contains affiliate links. I get a small commission for purchases or clicks made through them.