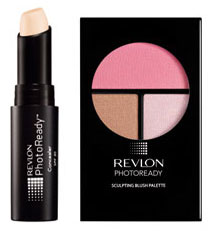 You might want to stay away from these two
THE CONCEALER
This creamy concealer provides medium coverage but its thickness makes it hard to blend and honestly I just feel like it never ends up looking natural. It didn't not look well on me when I had oily skin and now that I'm dealing with acne marks and dryness it only makes everything more noticeable and cakey.
I know some girls like to use it to cover dark circles so I decided to give it a try but Oh no! Even when I applied eye cream before I could still see some wrinkles I didn't even know I had. Keep in mind that a liquid concelear will always be the best way to go when it comes to the eye area.
THE BLUSH PALETTE
This was a huge disappointment for me as I was really excited with the idea of a drugstore contour palette. Not only contains less product than it looks like on the package -pretty much what you see from the outside is what you're gonna get- but the iluminator isn't such a thing and like the rest of the colors has no pigmentation. If youreaaally dig in with your brush on the pink tone you might get some color but you still need to layer on it to get any effect.
I doubt they can even be used as eyeshadows and ended up giving it away to my sister who barely wears makeup.
Have you tried these products? Do you love them or hate them? Sound off below!