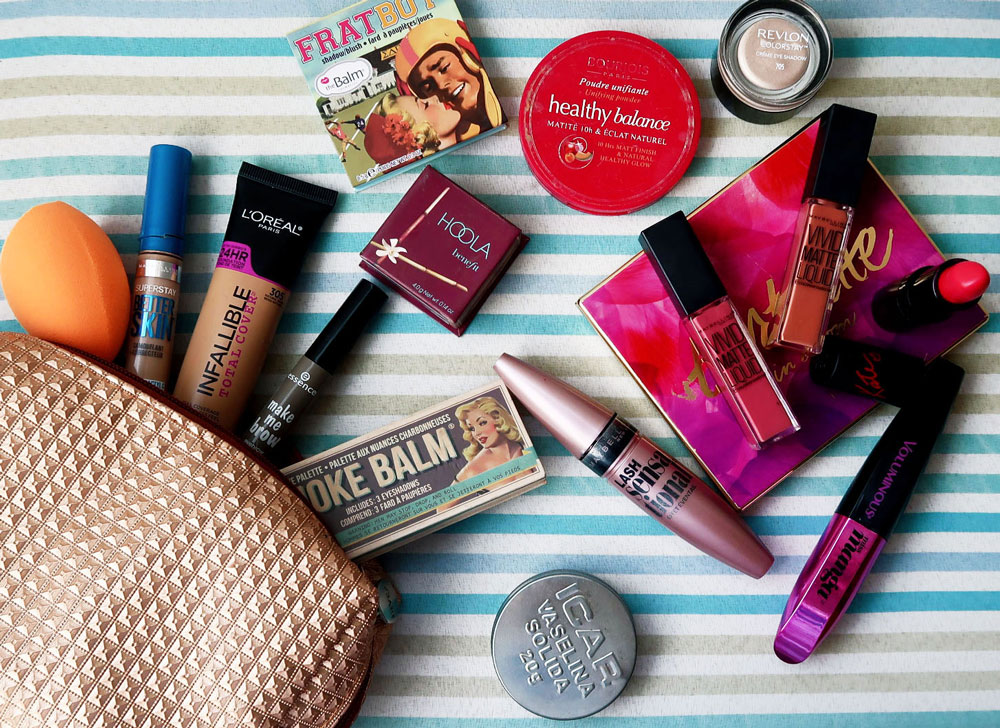 Here's what I packed for a 7 day trip!
FACE
Real Techniques Miracle Complexion Sponge: Not the most practical to travel with, but rumors are true: once you try one of these things you just can't live without it, especially if you're working with a thick foundation like L'oreal's Infallible Total Cover.
Maybelline's Superstay Better Skin: For the under eye area I choosed shade Ivory 10.
L'oreal Infallible Total Cover: It doubles up as a concealer but doesn't feel caky or heavy at all. My tone is Beige Natral 305.
theBalm's Frat Boy Blush: It gives such a beautiful natural flush, it has quickly reached the staple status. Review here.
Benefit's Hoola Bronzer: I add the slightless amount to the the cheeckbones for a little dimension. I got the mini size just to try it, and unlikely the rest of the world, I'm not obsessed about it.
Bourjois's Healthy Balance: The only powder I own and need as a dry skin gal. Review here.
EYESHADOW, BROWS AND HIGHLIGHTER.
Revlon's Colorstay Creme Eye Shadow in 705: A slightly shimmery champagne beige I use as a primer and goes perfectly under theBalm's Flame shadow, but also allows me to build up the mattes of Tarte's Tartelette in Bloom palette with ease.
Tartelette In Bloom Palette: It has more shadows that I can actually wear on a trip and after wearing it for more than a year I think the formula is too stiff for me. I meanly took with me because of its giant mirror. Review here.
theBalm's Smoke Balm Vol. I: I use Sparkle for my brows and Flame as an eyeshadow and highlighter. I compared this last one to Mary Loumanizer, but never thought I would actually love it more. It somehow blends better with my skin and the color looks more natural. Review here.
Essence's Make Me Brow in 03 Soft Browny Brows: The effect is very natural, yet it gives dimension to the brows, which is hard to achieve with powder alone.
LIPS
Rimmel's Lasting Finish by Kate Moss: Shade N° 90 is the best red I've tried so far. It's blue toned, super creamy and vivid.
Maybelline's Vivid Matte Liquid: They're both nudes and mix with Rimmel's lipstick to get a subtler color without giving me a weird texture. Nude Thrill is a true beige, whilst Nude Flush is mauvey toned.
Vaseline: To apply at night and prep my lips for makeup.
LASHES
Maybelline's Lash Sensational: Not better than the Falsies, in my opinion.
L'oreal's Miss Manga. It gives lots of thickness, but the lenghtening formula of the Telescopic is still my fave from the brand.
Both of them are about to finish, otherwise I would've taken only one, as I'm not that high mainteinance when traveling.
BRUSHES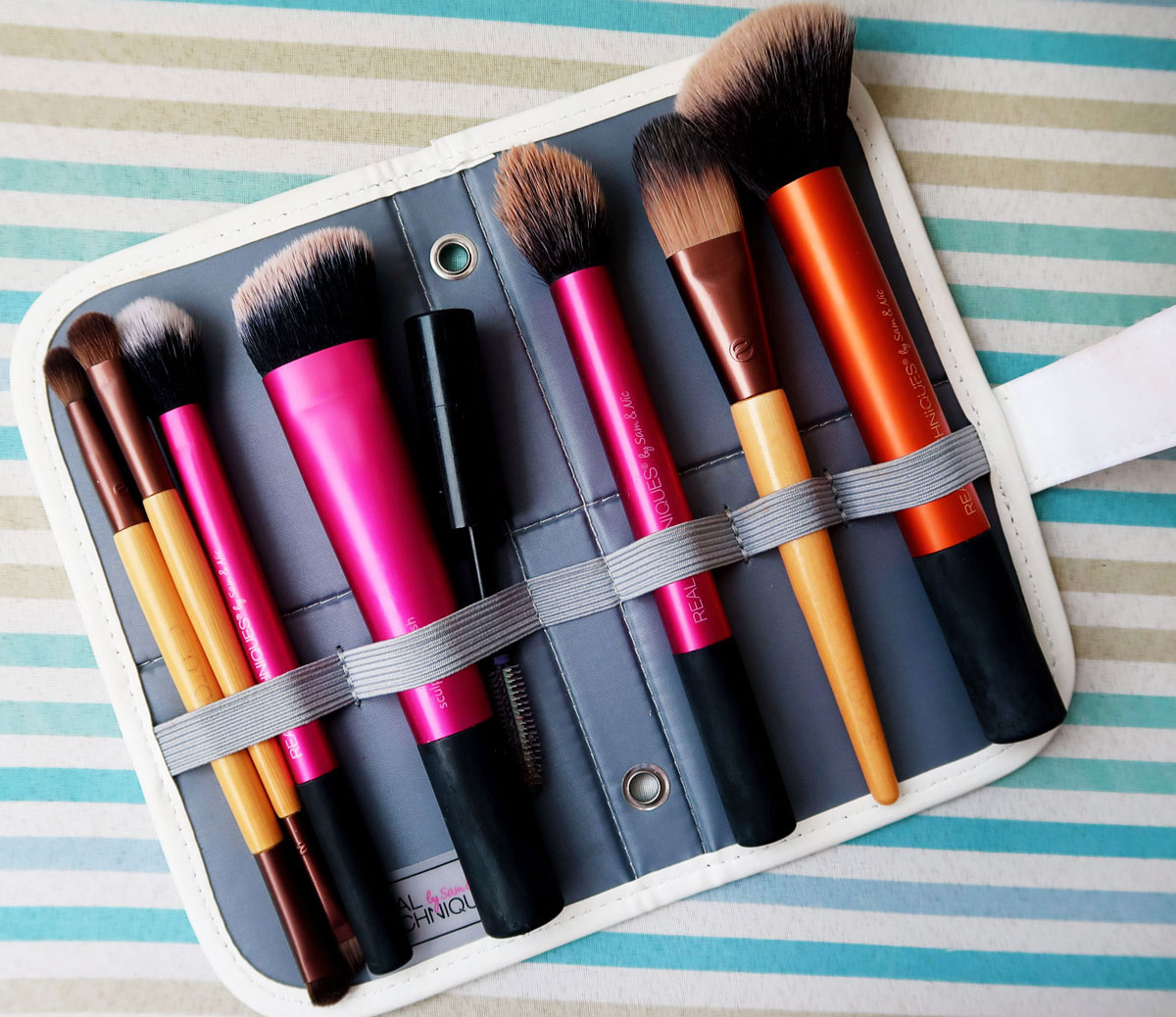 Ecotools Enhacing Eye Set: Review here.
Real Techniques Setting Brush: Not my fave to apply highlihter, as I prefer RT's fan brush, but super practical nonetheless.
Real Techniques Sculpting Brush: To get a defined, not rounded effect when applying my blush. Review here.
An old Revlon's CustomEyes mascara wand I use as a spoolie.
Real Techniques Multitask Cheek Brush: For the soft yet precise contour I like.
Ecotools Flat Foundation Brush: Review here.
Real Techniques Multitask Face Brush: It's huge, but I like how it applies powder evenly.
What are some of your travel makeup essentials?
This post contains affiliate links. I get a small commission for purchases or clicks made through them.