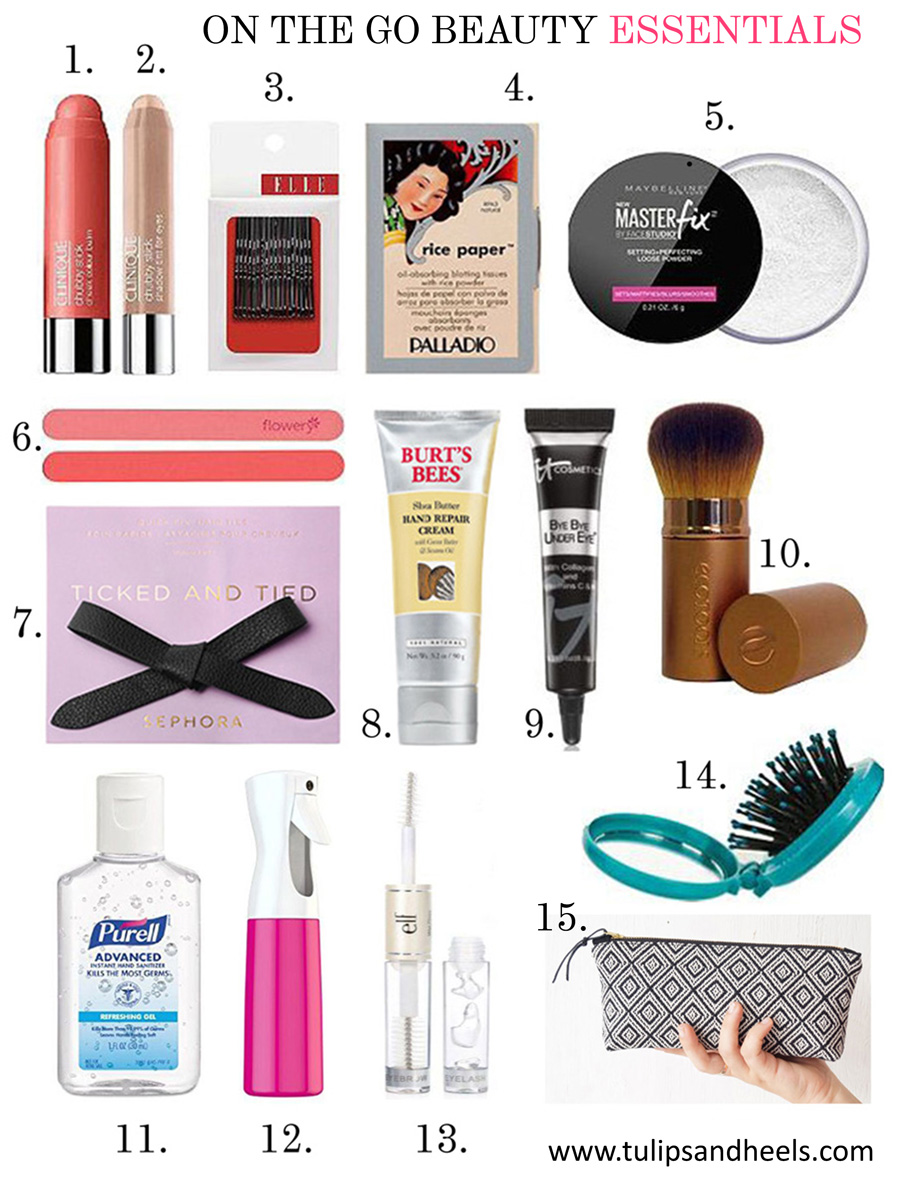 I'm so not the kind of girl that takes her whole makeup stash "just in case". See the content of my makeup bag here. Nonetheless, I figured I'd put togheter a list of essentials you can take with you on the go. Perfect for school and work days, this basic kit has you covered in case of beauty emergencies. Click on the pink link to know more about each product.
1. Clinique Chubby Stick Cheek Colour Balm in Robust Rhubarb
A sheer creamy balm can serve as lipstick, blush and eyeshadow. Peachy shades are flattering on most skin tones and give a fresh look.
2. Clinique Chubby Stick Shadow Tint for Eyes in Bountiful Beige
A soft cream eyeshadow works as a highlighter too.
Tame those pieces of hair that refuse to stay in place.
4. Palladio Oil Absorbing Rice Paper Tissues with Rice Powder
A must have for oily skin girls. Good old Kleenex will do the job as well.
5. Maybelline FaceStudio Master Fix Setting + Perfecting Loose Powder
Avoid a cakey face and mattify without adding more color with a translucent powder. Dab the area with a paper tissue first and make sure you clean the surface of the product when you get home to keep bacteria away, use paper tissue for this purpose too.
6. Flowery This Little Pinky Nail File
True story: your nail breaks the minute you get out from your house.This happens to me all the time and I always end up regreating not taking a nail file with me.
7. Sephora Collection Tick and Tied Hair Tie
In case you want to switch of your hair style or your hair tie breaks (I swear it happens to me everytime!)
8. Burt's Bees Shea Butter Hand Repair Cream
An absolute essential on dry/cold weather days or if the water is super harsh where you live and you just can't skeep hydratyng your hands eveytime you wash them.
9. It Cosmetics Bye Bye Under Eye Anti-Aging Concealer
Dab concealer only on those areas where it has faded. This is also perfect if you're not wearing any makeup and only want a little coverage. Rub it in your finger tips and apply as foundation if you need to, just don't over do it.
10. Ecotools Recycled Aluminum Retractable Kabuki Brush
If you're taking a makeup brush with you, make sure it's retractable so it doesn't get dirty.
11. Purell Advanced Hand Sanitizer Gel
Because you don't want to touch your face wihout sanitizing your hands first.
12. Stylist Sprayers Atomic Spray
No fancy/overpriced thermal water in here. Just a clean travel size spray bottle filled with pure filtered water (mix with some almond oil in case of dryness) to give yourself a splash and keep things fresh and not powdery looking.
13. e.l.f. Essential Wet Gloss Lash & Brow CLEAR Mascara Eye Makeup ELF Flawless
Control wild brows and flyways with clear mascara.
14. Ms Manicure Pop Up Mirror and Brush
A mirror and a brush in just one tool is the most practical thing ever, if you ask me.
15. DesignByRube Aztec cosmetic organizer
Choose a cute pouch to keep all your essentials, that way you just have to grab and go. I love the print on this handmade one!
What are your on the go beauty essentials?
ON THIS POST:
This post contains affiliate links. I get a small commission for purchases or clicks made through them.