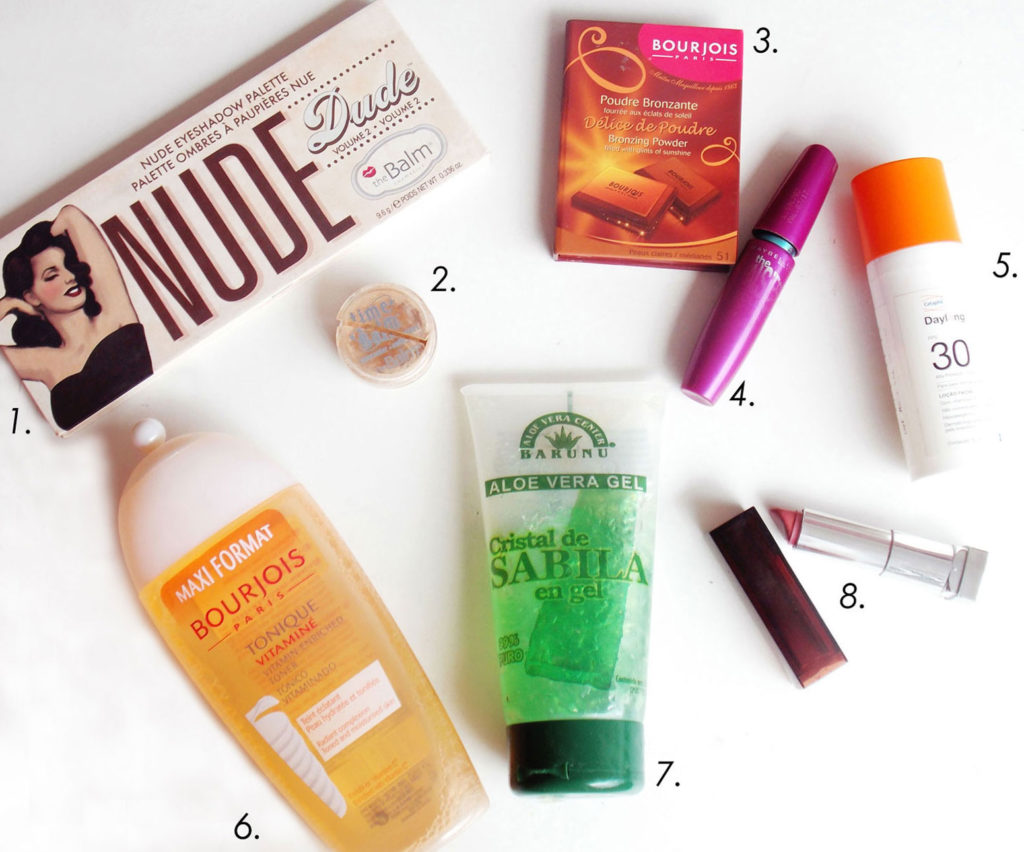 1. THEBALM NUDE DUDE PALETTE
I'm in love with this color selection! You can go neutral, soft-romantic or even dark-edgy with it. Full review here.
2. THEBALM TIME BALM CONCEALER
I still haven't recovered from Covergirl discontinuing their Smoothers concealer. It was simply the best! This is the closest thing I've found: super blendable, provides a fantastic coverage and it's not stiff at all. You can also apply it as an eyeshadow primer. As an undereye concealer I feel that it'll be too heavy. The only thing I don't like about it is the packaging as it breaks really easily.
3. BOURJOIS BRONZING POWDER IN 51
Not very pigmented, but totally buildable and perfect for a soft everyday look. Love the package as well!
4. MAYBELLINE THE FALSIES MASCARA
L'oreal Telescopic is my fave mascara ever. But sadly, they don't sell it here in Brazil, and we only have a few other Maybelline options, which as I've already said here I'm frankly bored of. This is something I'll be repurchasing all over and over. Love the brush, love the elongating effect. It's a do it all mascara for me!
5. CETAPHIL DAYLONG SPF 30
I have an ugly confession to make, specially for a beauty blogger: I didn't wear sunscreen for the longest time! It's not like I didn't try or that I'm not aware of the ugly consequences, but everything I tried so far ended up making me look like a ghost, disgustingly oily or causing breakouts (if not everything at the same time), so I gave up. I have the kind of acne that leaves marks, so sunscreen it's not negotiable as it plays a huge part in skin's recovery by preventing and getting rid off hyperpigmentation. Long story short, I 've finally found the one: lightweight, non sticky and non comedogenic, Cetaphyl Daylong absorbes inmediatly and contains phantenol which makes it super moisturizing for dry skins (there're also versions for more oily and sensitive ones.) It does leave a slightly white and shiny look, but it totally disappears once you put makeup on and surprisingly doesn't feel greasy to the touch.
6. BOURJOIS VITAMIN ENRICHED TONER
It's alcohol free and inexpensive, which isn't something easy to find these days. You can read more about it here.
7. ALOE VERA GEL
Aloe vera used to be a staple in my beauty routine, but the gel texture was doing no good to my dry skin, so I had to put it away for a while. Right now I'm more normal to dry, and I have to say that nothing I've tried this year (from expensive to cheap stuff) has improved my skin like this. In only a couple of days it evened out the tone and texture of my acne prone skin. Read more about it here.
8. MAYBELLINE NUDE LIPSTICK (They run by different names here in Brazil)
While last year I was all about the bold lip look, these year I prefeared to tone down things by mixing bright shades with nude (If I'd only went for the nude I'll look dead or like I'm not even wearing anything…) Maybelline makes amazing pigmented, non sticky, yet super moisturizing lipsticks.
Tell me about your favorites of 2015!
ON THIS POST:
This post contains affiliate links. I get a small commission for purchases or clicks made through them.